How To Score A for H2 Chemistry A-level

The GCE A level chemistry exam today is much higher compared to secondary level, especially for the H2 chemistry topics which include optical isomers, reaction kinetics, halogen derivatives and many more.

The A level chemistry syllabus is extensive, plus demanding practical assessments in laboratory, tough promotional exams in JC1 which ends with an even tougher A-level examinations, causes JC students to panic as they approach the exams.

Here are 5 revision tips and strategies from ex-students and teachers to score your As!
Tip 1 - Know the exam format well

Paper 1: Multiple Choice Questions
30 multiple-choice questions of 1 mark each.
Max score is 30 marks which contributes to 15% of total score.

Paper 2: Structured & Free-Response Questions
Maximum of 75 marks and this constitutes to 30% of the total score.

Paper 3: Free Response Questions
The weightage of Paper 3 is 35% of the total score.
There are 2 sections:
Section A (compulsory) - This comprise of 3 to 4 free-response questions
Section B – Choose 1 out of 2 questions.

Paper 4: Practical Assessment
This contributes to 20% of the overall grade. Paper 4 tests the student's skills of observation, analysis, planning, measurement and data presentation.
Duration - 2 hour 30 minutes to complete the assessment

Tip 2 - Know the main topics that will be tested so you can prepare for it:

Atomic Structure & Chemical Bonding
The Gaseous State
Theories of Acids and Bases
The Periodic Table
The Mole Concept and Stoichiometry
Chemical Energetics & Reaction Kinetics
Introductory Organic Chemistry
Isomerism, Hydrocarbons
Halogen Derivatives
Hydroxy Compounds & Carbonyl Compounds
Carboxylic Acids and Derivatives
Nitrogen Compounds
Electrochemistry
Transition Elements
Tip 3 - Make a Summary of key question types and answers

One strategy is to keep a notebook of question types and answer, where you summarize the key concepts by each topic so you can recall the answers quicker.
This ensures that when you see a similar question, you can immediately identify the topic being examined and the correct steps to reach the answer.
Even when you see a harder question, you can easily break down what they testing for.


Tip 4 - Practice A Lot!

Revise thoroughly your lecture questions, tutorials, revision packages and other school exam papers so you can be exposed to a variety of questions.

Memorise and note down how to answer these questions into a compilation e.g. notebook.
If you make any conceptual mistake, write it down too so you remember to not make the same mistake again.

Tip 5 - Get a JC Chemistry Tutor

If your child is one of these students facing difficulties in JC chemistry, why not get a qualified JC chemistry tutor to help provide A level Chemistry questions and answers?

Tutor City has the best home tutors who has helped many A-level students maneuver the tricky questions for the A level Chemistry exam and score a distinction, or at least, improved 2-3 grades from their initial scores.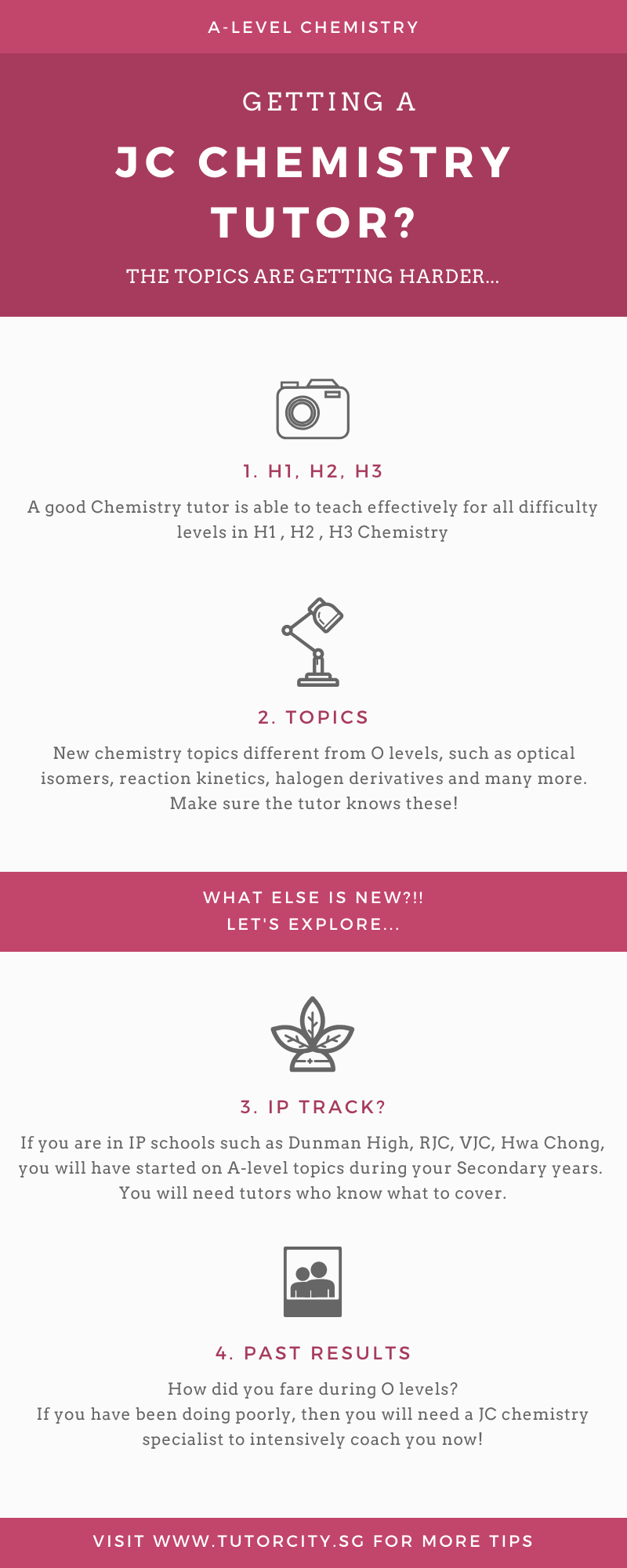 "Getting a JC Chemistry tutor"