Ace the Chemistry exams with our Chemistry Home Tutors!
What is Chemistry all about?

Chemistry is a common subject taken by Secondary students and later on at the Junior College or IB level, especially for those who plan to major in medical, bio-science, life sciences and chemical engineering courses in university.

It is a relatively difficult subject considering that in school, there are a wide variety of testing mechanisms such as School-Based Practical Assessment (SPA) and chemistry theory exam papers.

Especially if it is a brand new subject at Secondary 3, students at this early stage will find it difficult to manage themselves.

This is why many anxious parents hire the services of a private chemistry tutor to help their child.

Need a chemistry tutor urgently? Make A Free Request!

How much do Chemistry tutors charge?

The average hourly fees for Chemistry lessons ranges from $30 per hour to $120 per hour, depending on the tutor's credentials, experience and the level to teach.
Tutor Type

Pri 1-3
IGCSE 1-3

Pri 4-6
IGCSE 4-6

Sec 1-2
IGCSE 7-8

Sec 3-4
IGCSE 9-10

JC Year 1
IB Year 1

JC Year 2
IB Year 2

Poly Student

$20 - $25

$20 - $25

$25 - $30

$25 - $30

NA

NA

Undergrad

$25 - $30

$25 - $30

$30 - $35

$30 - $35

$40 - $50

$40 - $50

Part-Time Tutor

$25 - $30

$30 - $35

$35 - $40

$35 - $40

$40 - $50

$45 - $60

Full-Time Tutor

$30 - $35

$35 - $40

$35 - $40

$40 - $50

$50 - $60

$60 - $70

Teachers

$45 - $50

$50 - $70

$50 - $60

$60 - $70

$80 - $100

$90 - $120
For Integrated Programme or Special Needs students, rates are higher due to a higher level of learning that the tutor is required to have.

Benefits of Engaging a Chemistry Tutor
1. Personalised Attention: Local Singaporean parents would prefer private chemistry tuition over tuition centres.
Chem tuition teachers are able to focus their full attention on their child and customize the lesson plan in order to help him grasp the chemical theorems and formulas.
2. Commuting: Dedicated chemistry tutor singapore can provide 1-to-1 tuition or small group tuition in your house, at your preferred time, saving you the commuting time if you sent your child to a chemistry tuition centre.

3. Notes and past year papers: Good Chemistry tutors can make question banks, data booklets, use online resources to help further your child's understanding of chemistry.

The chemistry tutor singapore can also provide and go through past year chemistry exam papers to better prepare for the O-level chemistry or IGCSE chemistry examination.

4. Conducive environment: In a home setting, there is no pressure to rush through topics and your child can focus on learning at his own pace.
If you or your child finds Chemistry to be too difficult to master, then get the best chem tuition teacher will be able to make it seem much less daunting of a task.

Having more than 20,000 active tutors, our good chemistry tuition teacher can cover any topics such as organic chemistry, formulas, periodic table, practical lab tests, bio-chemistry.
4 Traits of a Good Chemistry Tutor
Look out for these 4 traits of a good chemistry tutor: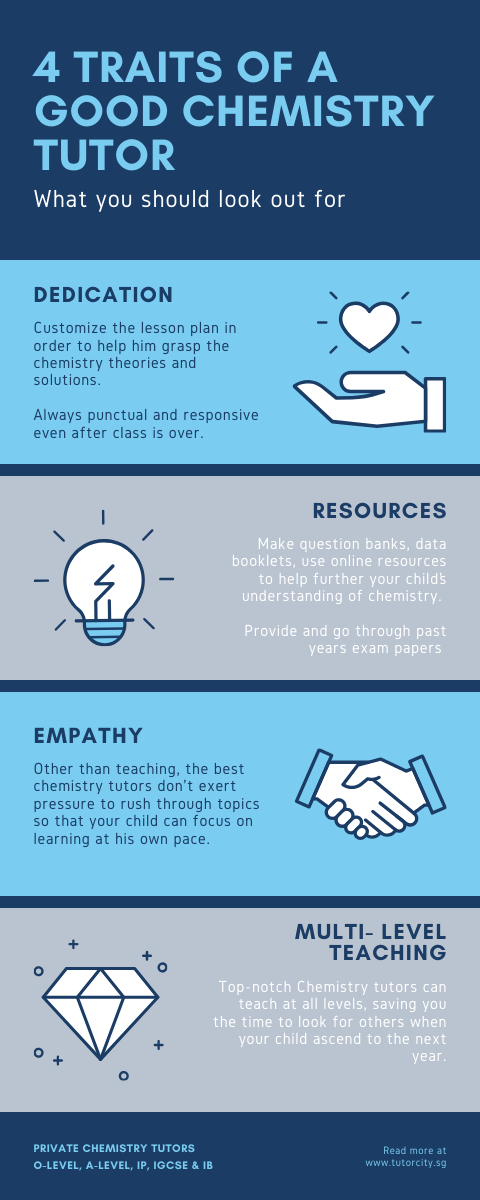 "4 traits of a good chemistry tutor, what you should look out for"
We are able to provide chemistry tutors starting from Secondary school, International Baccalaureate, Integrated Programme to Junior College and university levels.

We also have IP chemistry tuition teachers if your child is taking the 'through-train' programme.

Focus on 1-to-1 tuition instead of sending your child to a chemistry tuition centre to ensure your child gets the individual attention he needs.
So, what can you do with a Chemistry degree?

1. Research

Chemistry graduates apply their knowledge in various industries for research, such as:

- pharmaceutical companies to develop new drugs

- public hospitals to implement country-wide healthcare provisions

- crime labs and forensic analysis

- manufacturing sector e.g. cosmetics, paints, food & beverage.

2. Chemical Engineering

Another popular career choice is chemical engineering, where their expertise is needed in the energy markets, water treatment, plastics, toiletries, pharmaceuticals.

Chemical engineers oversee the implementation of chemical processes, alter the chemical components of products to meet environmental or economic needs, increasing the use of chemical processes for manufacturing purposes, and apply new technologies to improve existing processes.

3. Healthcare

In particular, roles in healthcare for scientists is to work together with clinicians to support diagnosis and assessment of patients and interpret results.

Popularly known as clinical biochemistry or healthcare science, a chemistry graduate's tasks is to participate in the investigation, diagnosis and treatment of disease and illness.

You will often be part of a team that consist of fellow chemists, biologists, clinicians and pathologists.

4. Medicine

The inter-relations between Chemistry and Medicine are extremely close.

The making of drugs is through a process called synthetic chemistry, where the drug has to be able to bind to a vesicle, receptor or protein.

The study of medicine relies heavily on chemistry and biochemistry since we treat injuries and illness with painkillers, chemotherapy, sedatives, etc. Thus, treatments are based on a chemical understanding of the original problem that humans are facing.
As we discussed above, those who study chemistry at bachelor, masters, PHD, go on to perform in many exciting roles in a wide range of industries.

Further reads:

1. Understand the importance of Chemistry in Medicine - "Why chemistry is essential for studying medicine at university"

2. Inter-relation between Chemistry and the Healthcare community. "The Accordia Global Health Foundation was established to bring together global resources to fight infectious disease in Africa. Through supporting local institutions and the people that lead them, Accordia nurtures the next generation of health leaders in Africa." https://www.africare.org/about-accordia
"Jobs for Chemistry Graduates"

Tutor City: #1 Chemistry Tuition Agency

1) A good Chemistry tutor definitely has to have sound knowledge of the subject, preferably with a Bachelor's or Masters degree majoring in Chemistry.

2) Ideally, the Chemistry tutor would also be experienced in teaching Chemistry at O or A levels. The tutor would have known how to transfer the already considerable knowledge of chemistry to the student. A person with a teaching certificate, or a Bachelor of Education from NIE would be ideal.

3) Lastly, a tutor with good natural communication skills and patience, without losing his/her temper at the student, would be very much in demand.

Chemistry is taught and tested at various levels listed below:
Whether you need O-Level, A-Level, JC, H1/H2, IB or IP Chemistry Tuition, Tutor City home tuition agency can provide the most suitable home tutors to match every request. Make a free tutor request and our coordinators will contact you to obtain your private tuition requirements.
Read also: How To Improve Your Chemistry Grades With Our 5 Tried & Tested Methods