Find The Best Chinese Tutors In Singapore Here!
Chinese as a mother tongue language

Chinese language (Mandarin) is the mother tongue of the Chinese community in Singapore. It is one of the toughest languages to master but its origins has rich cultural heritage and a long history. Although English is used as the medium of instruction in Singapore's education system, students are expected to learn a second language starting from primary school to secondary school and junior colleges.
How much do Chinese tutors charge?
The average hourly fees for Chinese tutors ranges from $20 per hour to $120 per hour, depending on the tutor's credentials, experience and the level to teach.

Tutor Type

Pri 1-3
IGCSE 1-3

Pri 4-6
IGCSE 4-6

Sec 1-2
IGCSE 7-8

Sec 3-4
IGCSE 9-10

JC Year 1
IB Year 1

JC Year 2
IB Year 2

Poly Student

$20 - $25

$20 - $25

$25 - $30

$25 - $30

NA

NA

Undergrad

$25 - $30

$25 - $30

$30 - $35

$30 - $35

$40 - $50

$40 - $50

Part-Time Tutor

$25 - $30

$30 - $35

$35 - $40

$35 - $40

$40 - $50

$45 - $60

Full-Time Tutor

$30 - $35

$35 - $40

$35 - $40

$40 - $50

$50 - $60

$60 - $70

Teachers

$45 - $50

$50 - $70

$50 - $60

$60 - $70

$80 - $100

$90 - $120
For Integrated Programme or Special Needs students, rates are higher due to a higher level of learning that the tutor is required to have.
Most Chinese families use English as their daily conversational language. Hence, many students find it challenging to study Chinese languages due to the lack of practise and understanding. The negligence towards Chinese language is increasing gradually. It is important therefore, to keep practising and speak Mandarin at home.
One important consideration is also should you take normal Chinese or Higher Chinese in primary/secondary school?

Need a private chinese tutor urgently? Make a Request now
Private Chinese tuition can help your child immensely

1. Qualified Chinese Tutors: Our Chinese tuition teachers are extremely familiar with the syllabus and exam formats for PSLE, O level, IB and IGCSE.

2. Removing fear of ridicule: In a 1-to-1 setting, students are less shy about asking Chinese-related questions as compared to a classroom environment where they fear being ridiculed by their peers.

3. Improve understanding: Our chinese tutor singapore teachers share tips on how to understand idioms, hanyu pinyin in the easiest way and provide notes from their own studies.

4. Flexible timings: You can set the days and time according to your child's schedule. Your child have hectic school timetable and often have to find pockets of time to have tuition and a private chinese tutor singapore can accommodate to it.

5. Customised learning style: A good Chinese tutor Singapore can identify obstacles and provide a customised lesson plan to tackle problem areas, something that cannot be done in a classroom or tuition centre.

6. Increase interest: Chinese home tutors can build interest in mother tongue by using practical methods and story-telling about the rich Chinese cultures and history.

Let our tutors help! View Our Tutor Listings
How we can help your child excel with our best chinese tuition singapore

Tutor City is a reputable and reliable Singapore registered tuition agency. We have a broad database of private chinese tutors who are familiar with the Chinese language syllabus and are experienced in conducting Chinese class Singapore for all levels ranging from preschool, primary, secondary and junior college. Our chinese tutor singapore are determined to help students to achieve academic excellence. Many of our tutors came from reputable schools as well as attaining distinctions in Chinese for their own exam scores. Our agency strive to provide quality home tuition and the best chinese tuition singapore to meet your tutoring requirements.
Tip: How to improve your Listening Comprehension for Chinese?

Learn Chinese in Singapore at the comfort of your residence, where our private chinese tutor will accommodate to your desired date and time for the tuition in chinese language skills, how to write chinese composition etc. This save the hassle of time and money for travelling so that students can better utilize the time for revisions in O level Chinese paper or other exams your child is sitting for.

You might ask: How to learn chinese? Well, our tutors specialise in teaching Chinese at various levels:
Kindergarten / Pre-school Chinese

PSLE Chinese at Primary 6

'O' level Secondary School Chinese Tuition

'O' & 'A' levels Chinese Literature

'AO' level JC Chinese

Conversational & Business Mandarin for adults
Are you ready to get a private chinese tutor for your child? Fill in the online form now!
"4 traits of a good chinese tutor, what you should look out for"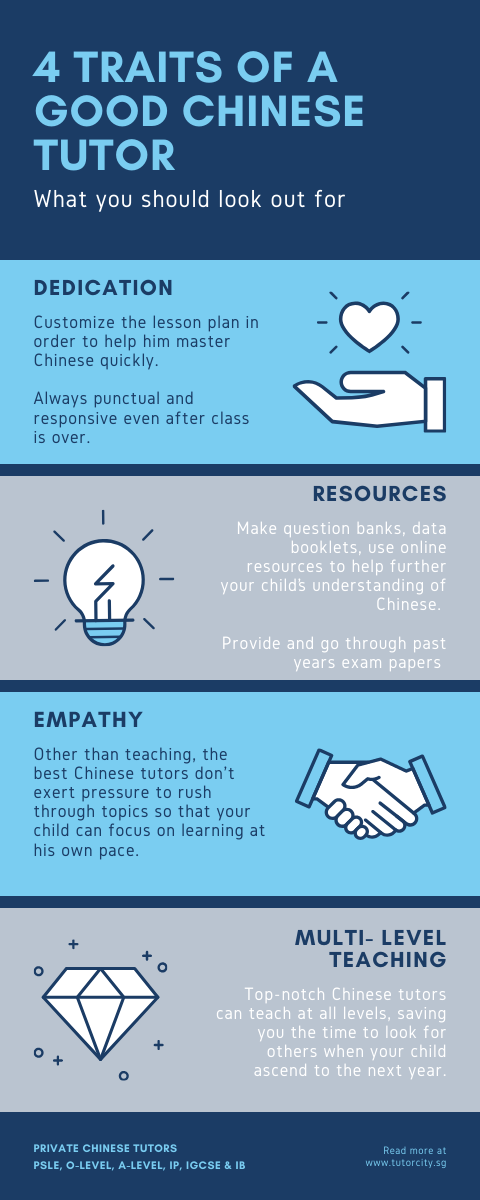 Why Study Chinese?

1. It is important to understand and uphold the the rich history and cultural heritage. It is through deeper understanding that can help in learning ancient literature.

2. The opening of the Chinese economy and the integration of global network create chances for business venture and job opportunities in China. It will be an added advantages to be well-versed in Chinese as many companies are hiring people who are proficient in Chinese so as to be able to converse effectively with China counterparts.

3. Many government agencies are hiring people who are fluent in Chinese so as to communicate with the local as well as to the increasing Chinese speaking population in Singapore. This is so especially for customer service front-line jobs. Many International organizations even carry out job interviews in both English and Chinese.

4. In Singapore, it is easier to use Chinese to communicate across different dialect groups, older generation and within Chinese community. For example, our day-to-day lives of interacting with hawker stall owners, barber attendants and grocery stores attendants will be much convenient when conversing in Chinese.

Many students ignore the importance of Chinese and they tend to neglect this subject. They are not aware that Chinese language is as important as other subjects because it contributes to the sum of scores in bigger examinations like PSLE or O levels. Learning languages requires lots of efforts, patience, practices and understanding. Since early 1990s, parents have already starting getting chinese tutor for secondary school, chinese tuition for preschool and other levels as well. Hence, it is important to provide proper guidance in learning by hiring a Chinese tutor singapore.
Find effective ways to learn chinese now! Reach us at 90672547 or use our online form
Tutor City: #1 Private Chinese tuition agency

Tutor City aims to offer quality home tuition and ensure that the learning journey is enjoyable and fulfilling. Our highly experienced Chinese tutor will access each students and tailored the lessons based on individual competency, providing Chinese PSLE revision guide or O level materials to their students. This will maximize the learning potential and to allow students to grow interest in Chinese language.

Our dedicated chinese tuition teacher will teach beyond what students can learn in school to allow students to master Chinese in the four areas: speaking, reading, writing and listening. It's only through 1-to-1 focus attention or online Chinese tuition Singapore that guidance from an effective tutor that will strengthen and accelerate your child's learning process.
With our help, we are confident that your child will excel and score in the subject!
Read also:
How to improve your chinese handwriting
Score an A1 for O-level Chinese with our 6 simple tips