Find Experienced PSLE Tutors At Affordable Rates
Feeling stressed out over the PSLE exam?

The level of difficulty in the PSLE examinations has been getting harder in recent years, with the recent social media firestorm over the 2019 PSLE Maths exam paper. The PSLE cut off points for entry to top secondary schools has been getting more competitive as seen by MOE raising the bar with each passing year, what was being tested at Secondary level is now incorporated into the Primary curriculum. Even with a new PSLE grading system, parents still push their children to achieve top scores to get into a school they want.

Need A PSLE Tutor Urgently? Make a free tutor request now
Kids these days don't get it easy, they have to learn these advanced formulas, languages and science in a short 6-year span. PSLE home tuition is as popular as O level or A level tuition. Worried parents often study together with their children in the hope of being able to coach them along the way, sometimes to no avail as the questions are too difficult to solve. From 2021, MOE has set a new scoring system to emphasize more on individual performance than relative to their peers.

Start preparing early. Call 90672547 or make a free request online
Private PSLE tuition can help your child immensely

1. Choosing a tutor: Select from our amazing pool of qualified PSLE tutors. Our PSLE tuition teachers are extremely familiar with the syllabus and exam formats for PSLE.

2. Overcoming fear: In a 1-to-1 setting, students are less shy about asking questions as compared to a classroom environment where they fear of being ridiculed by their peers.

3. Provide materials & exam papers: Good PSLE tuition teachers share tips on how to explain in the easiest way and provide notes / past year exampapers.

4. Flexible timings: You can set the days and time according to your child's schedule.

5. Customised learning style: A good PSLE tutor Singapore can identify weak areas and provide a customised lesson plan, something that cannot be done in a classroom or tuition centre.

6. Convenience: A home tutor teach at your home, reducing time wasted in commuting.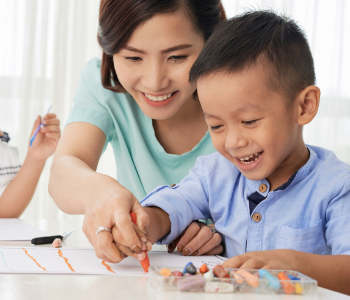 Let our tutors help! See our impressive tutor listings
How much do PSLE tutors charge?
The average hourly fees for PSLE tuition ranges from $25 per hour to $70 per hour, depending on the tutor's credentials, experience and the level to teach.

Tutor Type

Pri 1-3
IGCSE 1-3

Pri 4-6
IGCSE 4-6

Sec 1-2
IGCSE 7-8

Sec 3-4
IGCSE 9-10

JC Year 1
IB Year 1

JC Year 2
IB Year 2

Poly Student

$20 - $25

$20 - $25

$25 - $30

$25 - $30

NA

NA

Undergrad

$25 - $30

$25 - $30

$30 - $35

$30 - $35

$40 - $50

$40 - $50

Part-Time Tutor

$25 - $30

$30 - $35

$35 - $40

$35 - $40

$40 - $50

$45 - $60

Full-Time Tutor

$30 - $35

$35 - $40

$35 - $40

$40 - $50

$50 - $60

$60 - $70

Teachers

$45 - $50

$50 - $70

$50 - $60

$60 - $70

$80 - $100

$90 - $120
For Integrated Programme or Special Needs students, rates are higher due to a higher level of learning that the tutor is required to have.
Primary School Leaving Examination (PSLE)

The school leaving examination at Primary 6, also known as the Primary School Leaving Examination (PSLE) is conducted in Singapore annually. It is an examination that every student have to go through before being assigned to different streams in Secondary School. The subjects to be tested include English, Mother Tongue, Mathematics and Science. Students have to attain certain score so that they can choose and advance to their desired Secondary School.

In fact, the PSLE is a very important examination in Primary School which determines the educational route that your child will be taking in the future. The learning environment plays a significant role in contributing to your child's educational journey. A good learning environment is able to augment your child's learning capability and can boost his/her self esteem. Down the road, your child will be more confident to take up more challenges in his/her academic journey.
Why choose Tutor City for PSLE home tuition?

A good PSLE score is crucial to enrol into a good Secondary School. In order to achieve academic excellence, it is important to provide proper guidance from the expert.

In school, the teacher might not be able to provide individual attention to each of the students. Some of the students might have problem catching up with the syllabus and others might have difficulty coping leading to lagging behind their peers. Moreover, parents are too busy with their works and do not have enough time to coach their children. All these lead to tremendous stress to the parents and the child.

Not to worry! Tutor City is able to help you! Tutor City has a pool of dedicated PSLE home tutors who are familiar with the PSLE syllabus and are experienced in providing PSLE tuition. We aim to help your child to build a good understanding of his/her subjects and to excel in the PSLE, and not forgetting to make his/her academic learning journey an enjoyable one.

Are you ready to get a private tutor for your child? Make a free tutor request now
The benefits of home tuition is far more than you can imagined! PSLE home tuition allows tutor to pay 1-to-1 individual attention to your child. Your child will feel more comfortable interacting with the tutor and will not feel shy to express questions and doubts during lessons. This enables your child to learn at his/her own pace without being influence by classmates.

PSLE home tuition serves to expose the child to more content, collaborative illustrations, work examples and practice questions. Especially in PSLE science questions or maths questions where they tend to be tricky and baffling to most of us. PSLE composition and PSLE listening comprehension are 2 components of the English exams which many students also struggle with.

Our committed tutors will access your child and will tailored their teaching methods based on individual unique learning style, so as to maximize his/her potentials. Our tutors will cater their teachings to target and improve the child's weak areas, and will rectify mistakes instantly with quality solutions. Our tutors will also assist your child to learn ahead of his/her lessons so that your child will have more time to prepare for PSLE. Parents will be provided feedback from our tutors so that parents can better understand and monitor their child's progress.

In order to achieve academic excellence and to gain a competitive edge over other children, it is important to provide your child with proper guidance through quality home tuition.
Tutor City: #1 Home Tuition Agency

Tutor City is a registered tuition agency in Singapore. We provide professional PSLE private tutors who have a good knowledge of the primary school syllabus and are specialised in teaching PSLE academic subjects. They are highly experienced in giving PSLE English tuition, PSLE Chinese tuition, PSLE Malay tuition, PSLE Tamil tuition, PSLE Maths tuition and PSLE Science tuition.

Our qualified and dedicated PSLE home tutors can provide 1-to-1 tuition at the comfort of your house and at your preferred time. No problem is too difficult to resolve with our home tutors at your child's side.