Online Tuition At Affordable Rates. Safe and Convenient

.
With the recent coronavirus pandemic, schools have adopted home-based learning and private tutors have to switch to online tuition during the circuit breaker.

"On 21 April 2020, PM Lee announced tighter measures and an extension of the circuit breaker to 1 June 2020", so parents still cannot engage home tutors.

Learning however, has to continue. So why not consider having online tuition at the safety of your home?
Why Hire An Online Tutor Now?

It is important that your child continue learning at all times. Circuit Breaker or not!

The year-end national exams are still on! Your child still needs to prepare well for it.

Online tuition is very common with tutors locally and international

Educational tools are easy-to-use and free.

Tutor City will be with you every step of the way to help set up the lesson
How much do online tutors charge?

The average hourly fees for online tuition ranges from $20 per hour to $70 per hour, depending on the tutor's credentials, experience and the level to teach.

Tutor Type

Pri 1-3
IGCSE 1-3

Pri 4-6
IGCSE 4-6

Sec 1-2
IGCSE 7-8

Sec 3-4
IGCSE 9-10

JC Year 1
IB Year 1

JC Year 2
IB Year 2

Poly Student

$20 - $25

$20 - $25

$25 - $30

$25 - $30

NA

NA

Undergrad

$25 - $30

$25 - $30

$30 - $35

$30 - $35

$40 - $50

$40 - $50

Part-Time Tutor

$25 - $30

$30 - $35

$35 - $40

$35 - $40

$40 - $50

$45 - $60

Full-Time Tutor

$30 - $35

$35 - $40

$35 - $40

$40 - $50

$50 - $60

$60 - $70

Teachers

$45 - $50

$50 - $70

$50 - $60

$60 - $70

$80 - $100

$90 - $120
Is online tuition better than home tutoring?

Convenience: Flexible scheduling as both parties can log in anytime. Use the time saved to rest more or prepare for the lesson etc.

Safety: It's definitely safer since there is no physical contact so no chance of contacting the virus

Cheaper: The hourly rate of online tuition is usually $5 to $10 cheaper than face-to-face tuition as the tutor need not travel. Rates start from $20 per hour

Record Digital Lesson: Free softwares like Zoom, Google Meet and Webex have recording functions so you can replay the lesson for revision at any time.
There are some downsides of online tutoring:

Technical glitches - Families who cannot afford good computers or fast wifi often encounter errors and system failure, software crashes etc

Lack of human touch – Some students find it hard to connect or communicate with their tutors. It's like talking to a robot.

Distractions at home - Students who stay in small homes or have big families often disrupt the lessons with noise or calls for attention.
What are the types of Online Tutors in Singapore now?

Current / Ex School Teachers from MOE schools

IB trained international school teachers

Full-time tutors, Graduate part-time tutors

University students From NUS, NTU, SMU, SUSS, SIT, top foreign universities and polytechnics.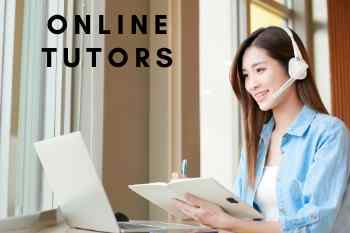 See our list of online tutors now!
What Are The Video Platforms Used In Online Tutoring?




i. Zoom allows teachers to synchronise with multiple students over video and share the screen, audio, text chat at the same time.
ii. Students can work in groups or be placed into groups to discuss with their peers.
iii. The ability to create screencasts, such as recording presentations and then share with the whole class.
iv. Teachers can use a table with a stylus to write directly onto documents on the screen and share with multiple students at the same time. This is very useful for showing mathematical equations or writing Chinese words.




i. Skype account can be obtained for free through Skype, which offers video chat and voice chat.
ii. Skype is an option when you need to get together with your students but need to be in different locations at the same time.
iii. Virtual Dictation allows you to dictate notes, exams, or conversation, either on your computer or at home




i. Google Meet allows up to 16 participants on a tiled layout
ii. Mobile-friendly and can be used on many types of devices
iii. High quality video and audio




i. Webex has Virtual Classrooms and excellent video conferencing quality
ii. Compatible on many devices
iii. It's free (you can pay for more advanced features)




i. Whatsapp is free of charge!
ii. Compatible with almost all mobile phones and can be synchronised on computers
iii. Can use video calls, voice calls and messages

Popular Online Tuition Subjects:
Online English Tuition

Online Maths Tuition

Online Chinese Tuition

Online Science Tuition

Online Physics Tuition

Online Chemistry Tuition

Online Biology Tuition

Online Accounting Tuition

Online Economics Tuition

Online GP Tuition

Online Literature Tuition

Online History Tuition

Online Geography Tuition