Master POA concepts with our outstanding Accounting tutors
Accounting as a key O and A level subject

While there are subjects that are simply a walk in the park, there are some academic subjects that are extremely challenging for students such as Principles of Accounts (POA) which is offered from Secondary 3 to O level. POA is a subject that requires strong mathematical thinking skills and is a valuable asset for careers in accounting.

Many secondary students find it challenging at first as it is the first time they encounter large volumes of data to analyse. Scoring A1 in this subject is difficult and parents often engage POA tutors to help their kids cope.

If you're one of those burdened by POA, then you have come to the right place! Tutor City provides specialist POA tutors for all levels from Secondary (O level) and JC (A level), to diploma and degree level Accounting-related modules.

Struggling with Accounting? Get A POA Tutor Now!
Private Accounting tuition can help you ace the exams!

1. Certified Accountancy Tutors: Our Accounts tuition teachers are very savvy with financial principles and familiar with the requirements of O level, N level, CPA, CFA, book-keeping and diploma/degree level accounting.

2. Privacy: In a 1-to-1 setting, students are less shy about asking Accountancy questions as compared to a group-setting where they fear being laughed at by their classmates.

3. Sharing of tips: An accounting tutor share tips on how to understand complex formulas, break down data into bit-sized information and remove barriers to understanding financial concepts.

4. Flexibility: You can set the lesson days for principles of accounts tuition according to your child's schedule. Your child have hectic school timetable and often have to find pockets of time to have tuition.

5. Customised study plan: A good Accounting tutor Singapore can provide a customised lesson plan to tackle study pain-points and weak topics, which cannot be done in a classroom or tuition centre.

6. Building an interest: POA home tutors can build interest in an otherwise boring subject, by using practical methods and sharing of life stories about their accounting careers.
How much do Accounting tutors charge?
The average hourly fees for POA lessons ranges from $30 per hour to $120 per hour, depending on the tutor's credentials, experience and the level to teach.

Tutor Type

Pri 1-3
IGCSE 1-3

Pri 4-6
IGCSE 4-6

Sec 1-2
IGCSE 7-8

Sec 3-4
IGCSE 9-10

JC Year 1
IB Year 1

JC Year 2
IB Year 2

Poly Student

$20 - $25

$20 - $25

$25 - $30

$25 - $30

NA

NA

Undergrad

$25 - $30

$25 - $30

$30 - $35

$30 - $35

$40 - $50

$40 - $50

Part-Time Tutor

$25 - $30

$30 - $35

$35 - $40

$35 - $40

$40 - $50

$45 - $60

Full-Time Tutor

$30 - $35

$35 - $40

$35 - $40

$40 - $50

$50 - $60

$60 - $70

Teachers

$45 - $50

$50 - $70

$50 - $60

$60 - $70

$80 - $100

$90 - $120
For Integrated Programme or Special Needs students, rates are higher due to a higher level of learning that the tutor is required to have.
Results-driven Accountancy lecturers and tutors

Tutor City is a reputable and Singapore registered tuition agency, and we have a wide database of private POA tutors who are familiar with the latest accounting practices in Singapore that adhere to the MOE syallabus and professional certifications eg. CFA, CPA.

They have been teaching all levels ranging from O level POA tuition, N level POA tuition, A level POA tuition, Diploma, Degree undergrads from all universities and private schools. Our tutors are determined to help students to achieve academic excellence.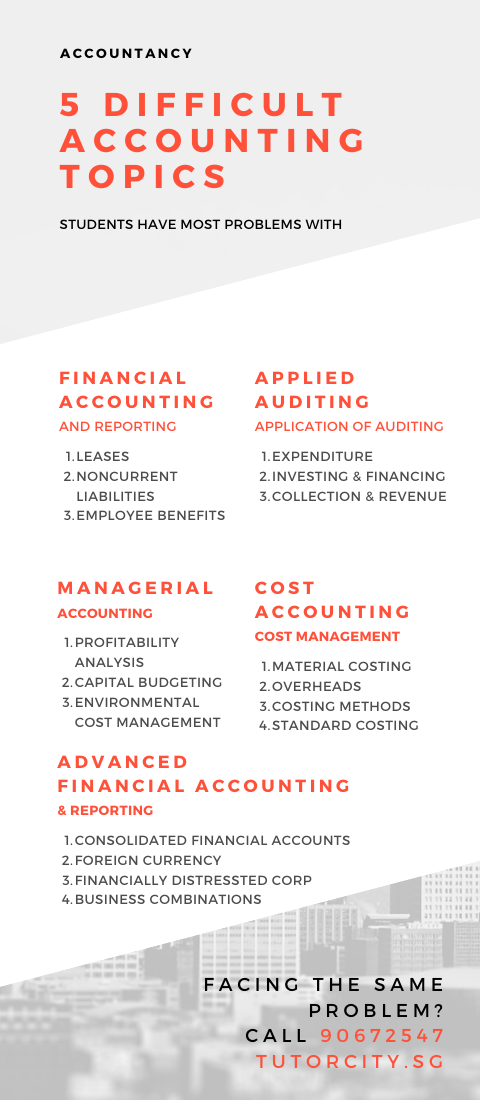 Need a POA tutor urgently? Call 90672547 or make a free request online
The importance of POA Tuition Singapore
POA students in Singapore face many struggles in their quest to get that distinction. They have to grasp financial concepts, prepare presentations, digest jargons and process technical accounting principles, all in the span of 2-3 years. They also have to grapple with 5-7 other subjects for their O or N levels, hence achieving that balance is a mountain of a task.

What is the benefit then, one might ask?

Jobs in Finance and Accounting can be very lucrative. Achieving that CPA or CFA lead to job avenues such as CFO, Financial Auditors, Accountancy Managers, Lecturers, earning between $10,000 to $30,000 monthly or higher. One can also consider setting up your own accoutancy agency to provide book-keeping and auditing services. This is one reason why financial accounting tutor is in greater demand these days.

Accounting is an all-round subject in which a degree in Accountancy can spearhead your child's career into this lucrative field.

Give your child a boost in Accounting now!
What do our POA teachers cover?

Basic book-keeping
Balance sheet preparation
Financial statement analysis
Cash Book / journals
Role of financial managers
Double-entry system
Shares and Types of Company entities
And many more...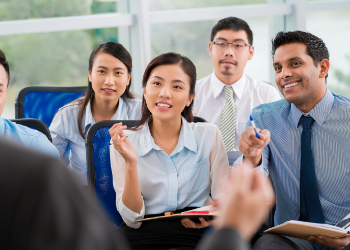 Let our tutors help! View our POA tutor profiles
Tutor City can help you get excellent POA results

As Singapore's economy expands, the demand for top financial gurus and accountants grow by the day. Investing in POA Home Tuition now would bring many benefits and build interest in Accoutancy early on. Rather than putting your child through arts or creative writing class, why not put your money into getting a world-class POA tutor Singapore?

We post regular advertisements for 'Accounting Tutors Wanted' so there are daily registrations of many good POA tutors. They teach at your home and some conduct POA group tuition if you have friends to join in. Don't hesitate any more. Start preparing your child now so they can secure a foundation in Accounting studies to score an A for their upcoming exams.
Tutor City: #1 Private POA tuition agency

Engaging a professional tutor revolves around the concept of enhancing the student's knowledge of Principles of Accounts. Under the mentorship of accounts specialists and experts, every student will be taught to understand the basic fundamentals of POA.

He/She will be exposed to the practical aspect of POA and will be able to appreciate POA as being part and parcel of our environment. POA tuition is therefore, one of the most highly demanded tuition in Singapore due to its importance in the educational pathway to a good future.
Many parents have found it a necessity to engage a POA tutor for their child, and Tutor City is here to assist you if you need one.

Contact Tutor City today to enquire more on POA home tuition!